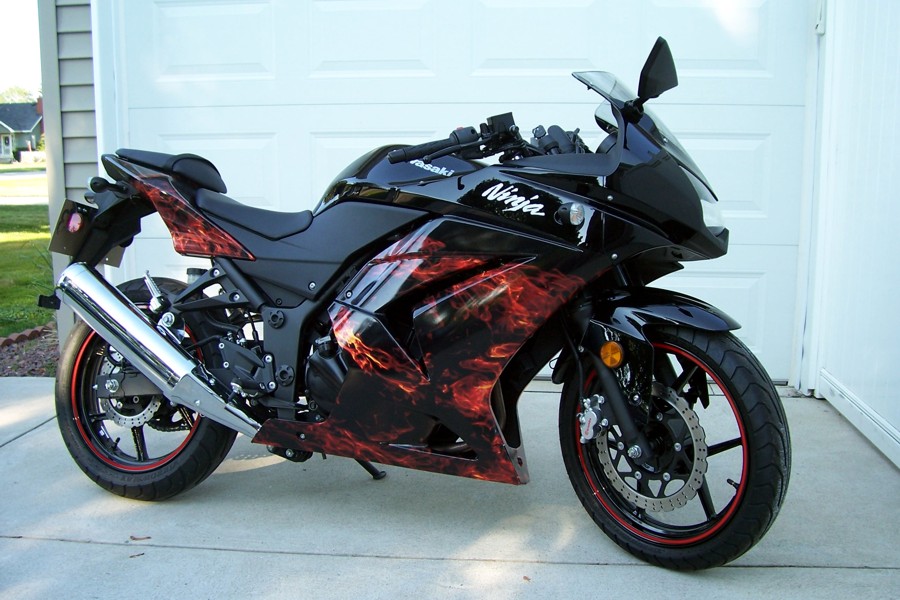 Amazing digital print true flame, true fire, Natural Flame wrap on a brand new 2008 Kawasaki Ninja 250r. How can we go over all those contours? All of our wrap products can be applied to surfaces like this. How? Because all of our Body Skinz wrap kits are produced from a combination of our high performance wrapping film and a glossy protective over-laminate for protection & long lasting durability. In many applications this material is better than paint. This is the same process all the NASCAR teams use.
With a bit of effort and the tools we provide including vinyl wrap application videos anyone can have a custom look. We give you the tools, the confidence & the know how to do the job yourself "do it your self wraps". Contact us with any questions.
Imagine how much you would have to pay to have this airbrushed on your bike…. $$ thousands we know.
To do this New Natural Flame Wrap application we used 3 sheets of 30″x 30″ film. (around $300.00) & a Saturday afternoon. Not bad for results like this.
This was a custom application for a local customer we even included one of our reflective wheel kits.
If you are interested in our reflective wheel kits or any of our wrap products just give us a call we have many colors available. Call today and we can custom create a look that fits your machine and riding style. We have cusom motorcycle wraps available for many types of motorcycles including the Can-Am Spyder.
To purchase this wrapping film CLICK HERE
WATCH THIS NINJA 250R GET THE VINYL WRAP APPLIED MOTORCYCLE WRAP APPLICATION VIDEO:
http://www.youtube.com/watch?v=4atyupWZYuY
READ COMMENTS ON THIS FLAME WRAP:
http://www.2fiddy.com/2008/08/wrap-that-pickle-then-slip-her-a-tickle/#comments
http://www.kawiforums.com:80/showthread.php?t=117742