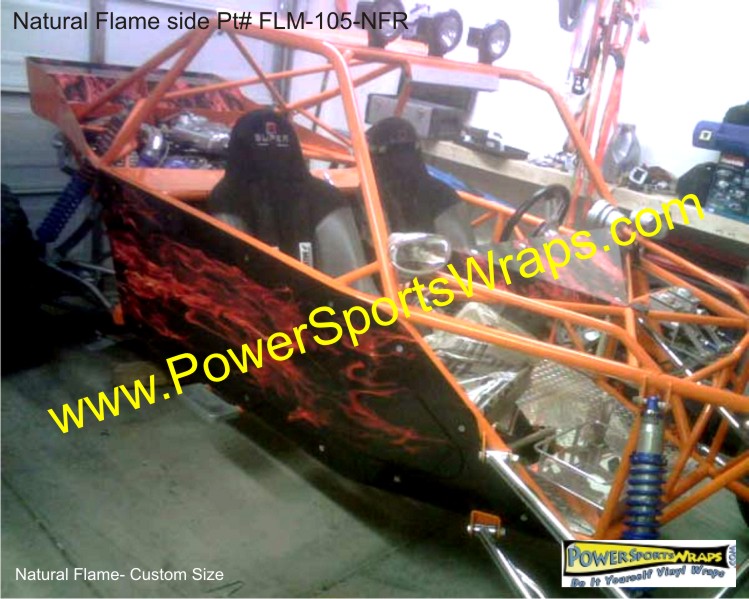 Special thanks to Mark H in Las Vegas NV for sending us some pictures of his Sand Rail wrapped in our Natural Flame warp. Mark contacted us with the idea of custom wrapping his sand rail and we said "No Problem". He gave us his required dimensions and "BAM!!" we produced the job and shipped it out to him UPS Red label.
Also, notice the nice glossy shine on the wrap?? That's because we have a 2 step production process, produce the image on the vinyl wrapping film then unlike others in the industry we run the material through a laminator machine that rolls on the glossy laminate. We do not sell the wimpy spray on laminate like many other online companies. Once we roll on the laminate the material is just shy of 5 mil thick that's 2.75 thicker than the spray on with way more protection & durability for those who get rough with there toys.
Sand Rail wraps are relatively inexpensive, as an example this job cost less than $450.00. Just imagine how much this would cost to have someone air-brush this on. Why paint when you can wrap?? We have over 200 custom vinyl sand rail wraps, motorcycle wraps, ATV wraps, side X side wraps and more… ready for production. Feel free to contact us for your dune buggy or sand rail wrap project. Most orders have minimal set up fees for custom sizing.
ORDER YOUR SAND RAIL – DUNE BUGGY- DESERT BUGGY WRAP TODAY
CALL 866-289-2358