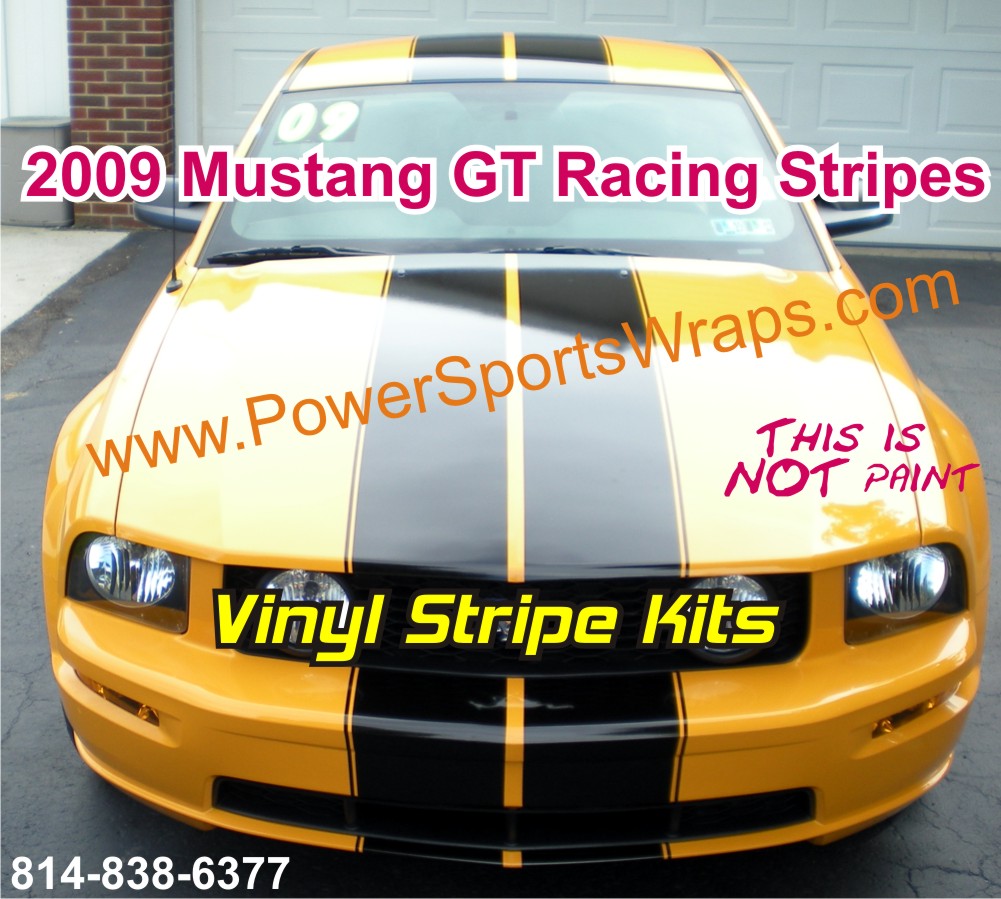 OUR MUSTANG CUSTOMER SAYS:
In September we puchased a Grabber Orange Mustang from Terry Delfft at Bob Ferrando Ford. The car came in with white stripping. Terry referred us to Sharper Images (PowerSportsWraps) to have the white strips removed and black put on. The job was done with in a week. It was well worth it. We are very pleased with the way the Mustang looks and will be more than happy to tell people who did it.
Dick and Flo Stang
Yes, we specialize in applying the latest in Mustang Racing Stripes. If you have a mustang & you want to dress it up, this is the least expensive way to get the looks. Transform your mustang into a mean street machine for a very small investment.
Our vinyl racing stripe packages are 1/4 the price of custom paint. When we do our applications we have less seams then if you were to buy a factory applied GT 500 & that's no lie. We meticulously wrap each edge into the body for that complete custom paint look. We do not stop our film at the edge we tuck everything. This adds to the cars appearance & really makes the application complete.
We can create a custom rocker kit with your custom text on it. We have done: GT, GT350, GT300, R Code, Mustang & many more. Contact us with your custom Mustang Rocker idea.
ROUSH STYLE STRIPE KITS: We also have available customizable Roush 427 style Check stripes, Hood Stripe & a custom Hood scoop stripe for the 09 Roush factory hood scoop. Contact us TODAY for you custom Roush style stripe kit.
CALL TODAY -866-289-2358