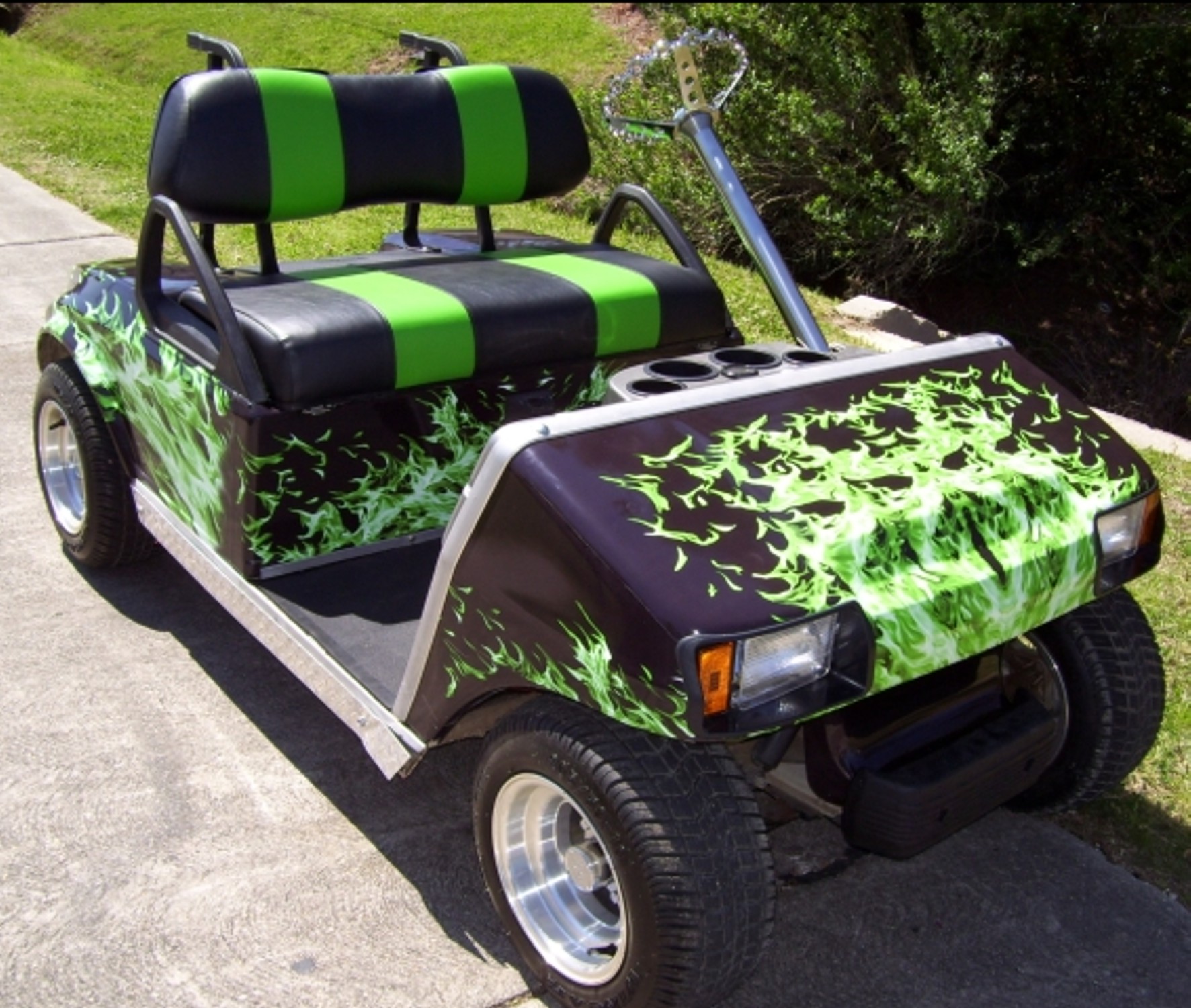 All new Slimy Grimy Green Flame wrap. This photo was submitted by one of our happy customers in Louisiana. He wanted a custom wrap that had the look of a custom paint job without the high cost of air brushing. This is just one of may uses of our Flame wraps. Our flame wraps can be applied to all types of power sports equipment. Here is a link to our custom Digital Flame wrap section. Remember… don't get burned by imposters be sure to choose Golfcargraphics.com for all your Flame wrap needs.
Here is what he had to say about his custom wrap: Was a little intimidated when my Body wrap arrived in the mail….it got there a lot quicker than I anticipated. These guys don't mess around, very helpful and supportive on the phone, and they get your product out to you in a flash. I've never taken on a project like this before, and was nervous that I was gonna screw it up. But here it is, I paid good money for it…and SOMEBODY had to put it on….so I sucked up the fear of messing up and had a beer and got to work. The golfcargraphics.com website says that the wrap can be applied without removing the body, but I figured it would be easier to do if I DID remove the body (as if I were about to paint it)…I was wrong…I now know that a golf cart body is extremely flimsy and I had to wrestle this throughout the entire time. LEAVE THE BODY ON THE CART!!!
The instruction sheet tells you which sheet is intended to go where, it wasn't really hard to do…I have some seems I would have liked to avoid, and COULD have avoided if I would have had some practice…..By the time I was applying the last sheet…I pretty much knew what I was doing!!! Unfortunately on the first one or two, I had NO FREAKIN CLUE…but it IS fairly easy…ya just cant be scared to grab the stuff and really give it a good stretching pull…at first I was trying to be all careful and handling it delicately. But this stuff is pretty tough and NEEDS to be pulled and stretched.
Talk a buddy into buying one and help him put HIS on…then it will be a breeze to put your own on!!! 😉I've added some more accessories since the original photos, mainly a roll bar and windshield. Here are a couple of updated pictures.