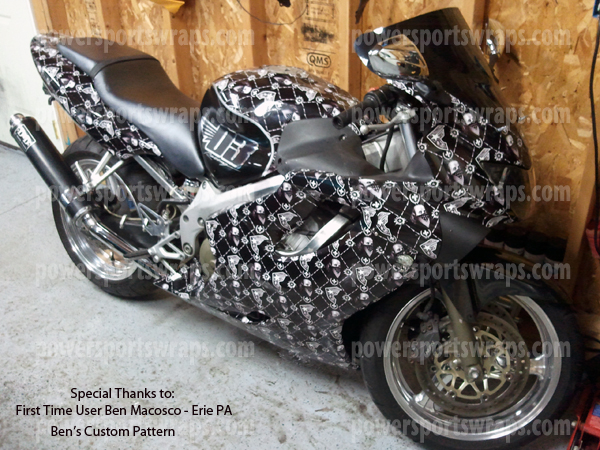 Check out this really cool super high definition bike wrap pattern created by Ben Macosko of Erie, PA. Ben has a background in graphic design & as you can see he's pretty good in photoshop as well. Ben contacted us with a request that we produce his vinyl sport bike wrap design for him & that he would apply it once we had it ready for him.
After a bit of discussion on file type & dpi, Ben got to work designing his sport bike wrap in Adobe Photoshop.

He provided the file to us & we produced the product for him on the wrapping film with the glossy sheet laminate for added protection just like we produce all of our vinyl bike wraps. Ben used 5 sheets of vinyl wrapping film on his 02 Honda F4i.
As you can see he did a super job installing the motorcycle wrap on the bike. Great job Ben…. If you have questions regarding vinyl wrapping film, bike wraps, or how to to apply see our FAQ's page on our vinyl products.
Phone: 866-289-2358
If you have a custom bike wrap design that you would like us to produce feel free to contact us to discuss the details. If you need your wrap idea designed we can do that too.. Call or email us today….