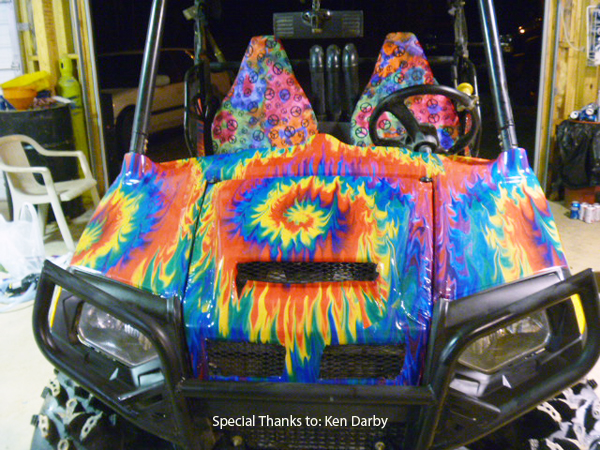 Check out this custom Tie Dye Flame side x side wrap on Ken D's Polaris RZR.. Ken wanted a super cool custom RZR and could not wait to get his RZR
wrapped in this pattern. Ken used 5 of our 2'x4′ sheets for his project. This pattern was custom designed originally for Rupert from the TV show Survivor. We have hundreds of vinyl wraps for you to choose from. Shop our huge online vinyl wrap store to see all our patterns.
Ken said:There were people coming over to where we were camped and taking pictures of it. I wrote your website down a couple times and told people about it when ever they asked. We used five sheets to do it. I think if I was to do it over, it would be twice as good of a job just because of the learning curve to applying it. It takes some getting used to knowing how aggressive you can and can't be with it.
I love it! Ken Darby
Phone: 866-289-2358