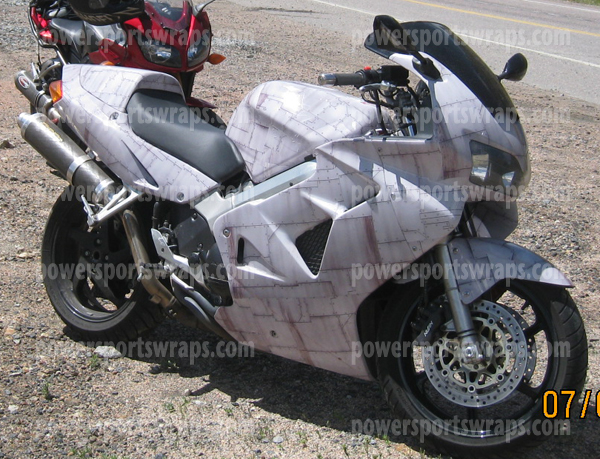 IF YOUR BIKE HAS ROAD RASH READ THIS:
My bike is in fact a VFR but we shaved off the stock blinkers before we put on your wrap and that cleaned up the look of the front end quite abit, i had laid the bike down around a corner and decided to vinyl wrap it instead of painting….they wanted $1500 for a full paint job so i decided to wrap it and it turned out amazing, people stare at it at every stoplight now!
1. your service is great
2. your product is very high quality from what i can tell….looks amazing
3. definitely recommend having 2 people
**Chance Helickson

Change up the look of your bike with our all new Dirty Aircraft Metal vinyl bike wrapping film. Just peel & stick this amazing metal effect & change the complete look of your bike. We now have the Shark face element available for sale as an add on item to complete the P40 Flying Tigers look. We specialize in custom bike wraps & we have over 200 sport bike & other wraps ready to go.. You can completely cover your sport bike in a custom wrap effect for as little as $325.00. Better looking effects than custom paint, much less cost, changeable copy, do it your self. Save a bunch of money by contacting us..
See other bike wraps from first time users.
To order Dirty Aircraft Metal wrapping film