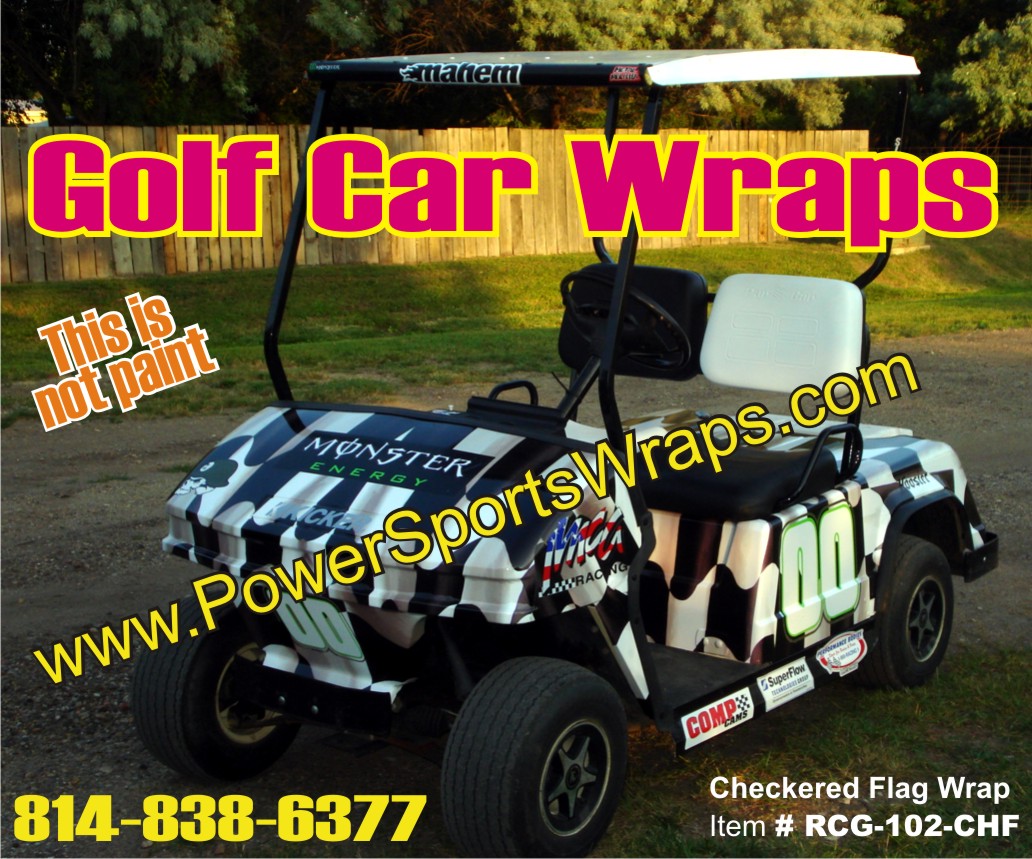 Check out this custom golf car wrap applied by Amanda H. of 00 Motorsports. Amanda was a first time user who found us online as she searched for a way to dress up her race team golf car. The team wanted there golf car to stand out from all the others in the Pits.
Amanda's Application Tips: Just a few thoughts on the application process I have are that the video is really helpful, so be sure to let new users know its available to them and encourage them to watch it! Pre-cleaning the surface with alcohol actually seems to help it go on smoother(there were a few times I forgot to use it and I definately noticed!)I found as I was applying the larger portions that when there's a small dip or the surface is not flat to lay the sheet of vinyl straight over it and then use the heat to work it into place. Using the heat to stretch and work the vinyl into place works great on corners. When there were bubbles it was best to heat them and smooth them out, rather than keep pulling up on the sheet, which, by the way is great that you can pull up on the sheet and re-apply it several times to get it straight or exactly where you want it! It's really easy once you get the hang of it!
Comments: Since we're not golfers, we decided to turn the golf cart into a "race cart" to go with our modified race car! It was an adventure as it was the first time using a vinyl wrap but we are looking forward to trying it again to wrap our snowmobiles this Fall! Thank you for your excellent and fast service, and we hope to contact you again for future projects!

00 Motorsports: 00 Motorsports is from Williston, North Dakota and has been a family business as well as a hobby. Nick Fuchs is in his third season racing Modified, his prior seasons he competed in Mini Sprints and Motocross and he also races snowmobile. This season for Modifieds has been spent out of contention due to a blown motor and we are working on getting things shaped up for next year. Look out 2010!
We've had tons of compliments on the golf cart and can't wait to get an order in to get the sleds done before heading out to the Mountains this winter! Thanks for helping us out so far!
Mandi
If you have a Race team or are just looking for a way to dress up your golf car or other power sports machine contact us we can help..
866-289-2358