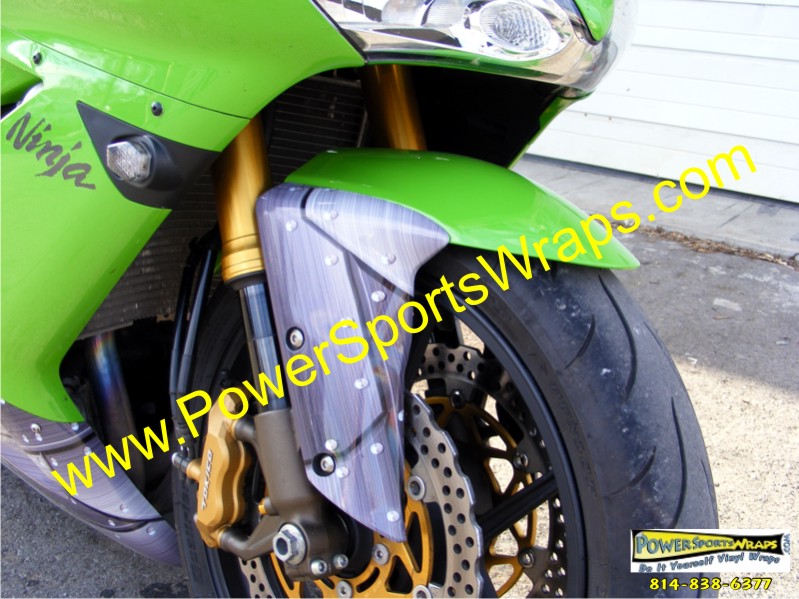 This is a 2005 Kawasaki ZX10 R with our Riveted Metal Charcoal vinyl wrapping film applied to it. This was a custom order from Kevin at Speed factor motorsports. His customer was looking for an inexpensive way to customize his ZX10R without the high cost of custom airbrush (why paint when you can wrap?). Kevin contacted us with his project and we were excited to assist him with this sport bike vinyl wrap. As you can see from the pictures this is a very clean high resolution decal wrap that has great effects in it. Kevin applied this personal vinyl wrapping film himself, this was the first time he had ever installed a motorcycle vinyl wrap before. With our easy to follow "do it your self" application instructions & the FREE Squeegee tool provided we take the guess work out of the install. We also have availabe application videos to all PowerSportsWraps.com customers.
Here are Kevin's comments when he submitted his photos: As everyone can see the wrap makes a bold statement with very little investment. Thanks again for all your help we'll be making a new order soon for the next and more involved project.
Kevin Sowder Jr. speedfactormotorsports.com
If you are looking to wrap your Kawasaki or any other sport bike just let us know and we will do our best to create a personal motorcycle wrap just for your bike. We can add logo's, names, even pictures to your bike wrap with little added cost to the basic cost of the vinyl wrapping film.
ORDER RIVETED METAL CHARCOAL HERE