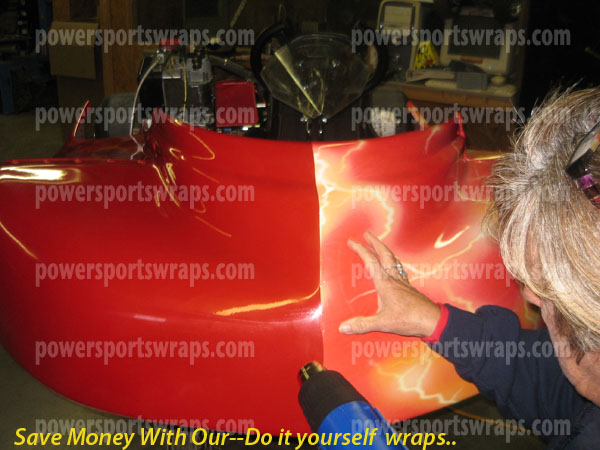 We have over 200 custom vinyl wraps in stock and ready to ship. Our do it yourself wraps can be applied by most handy individuals. In these photos you can see Jill one of our first time users using a heat gut to apply her Go kart wrap. Remember we supply you with everything you need to have a successful vinyl wrap application. If you have a racing go kart & you would like to dress it up & make it stand out from all the others… contact us we can help… Use our vinyl wrapping film on: Go karts, boats, Jet Skis, ATV's, Side X Sides, Street Bikes, MX Bikes, Cars, Trucks & more..
Order your Lightning Vinyl here.
Jill's Comments:
Hi Pete – Just sent you the pics of the go kart. Went on way smoother than i imagined only took about 2 1/2 hours to do. We were very happy with the vinyl itself. The tutorials also were a big help.
Thanks
Dustin and Jill Westercamp
Farmington, Iowa