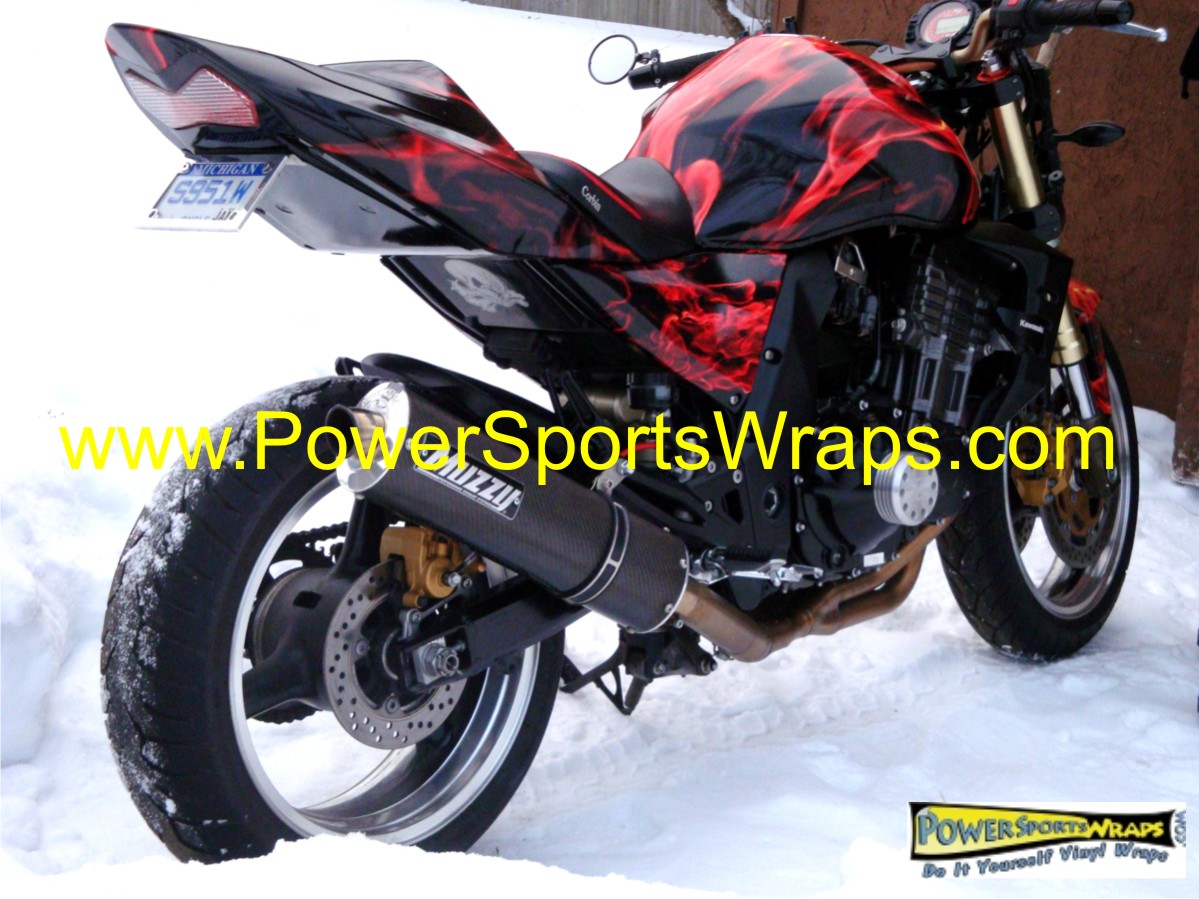 Oh my goodness your bike's on fire!!! This Kawasaki Z1000 was originally just a Red machine like every other Z 1000. Jeremy contacted us with his idea and after a bit of discussion and measuring he purchased a custom made Real Flame "do it your self" vinyl wrap just for his bike. His Kawasaki was transformed into one of the hottest looking naked street bikes on the road. These pictures are just a sample of what we can do for you for a fraction of the price of a custom air brush paint job & the cool thing is if you ever want to change the look of the bike you can remove the material will little to no left over adhesive.
JEREMY'S COMMENTS: When I first had thoughts of getting a custom paint job on my bike. I had no idea of the prices they would cost…. then I found powersportswraps.com and happen to find the exact design I wanted! and for WAY LESS then a paintjob! its rare, custom and looks real sharp now. I had no idea how good it would look… as each vinyl was installed I was eager to install the next….. once completed I took pictures and as you look at it on the website, I must say the pictures still dont do it justice!

thanx powersportswrap, pete I will tell everyone who wants custom cool looks on their bikes and other toys!

We just had to get these pictures posted for all of you road race & Street Stunt guys who are looking for an inexpensive way to change the look and color of your motorcycles. Imagine how much a custom flame air-brush job would cost…. Thousands no doubt. Jeremy completely wrapped his Kawasaki Z1ooo for under $400 bucks. Some of you spend that on a Friday night out on the town. Now can you see why vinyl wrapping your bike makes much more sense?
We have over 200 personal do it your self vinyl wraps for motorcycles & other power sports equipment to choose from. If you would like we can custom create your motorcycle wrap that makes the statement you want. If you race your bike or if you stunt ride let us know and we can incorporate your team logo or sponsors into your personal motorcycle wrap.
Contact us today with your street bike vinyl wrap project and we can discuss the details.
866-289-2358