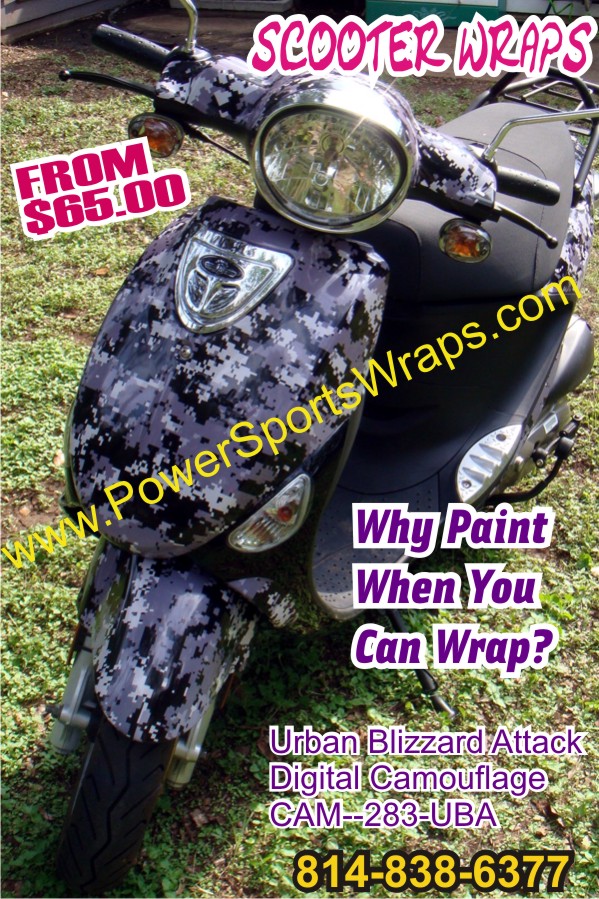 CLICK EACH PHOTO TO VIEW CLOSE UP.
If you have a scooter & you are looking to change up it's appearance then look no further than our wraps for scooters. We have over 200 patterns to choose from. Scooter wraps are easy to apply & make even the oldest unit look new again. We supply you with everything you need to do your application right.
Take a look at the link below to shop for the coolest scooter wraps on the planet. www.powersportswraps.com
Notice this comment & pictures above from one of our happy customers:
I loved everything about wrapping my Genuine Scooter Co. Buddy 125 from the reasonable prices, fast shipping, tutorial videos and had fun making my scooter look great! It certainly stands out in a crowd.
Marvin Smith
Marvin's scooter has our Digital Urban City Assualt applied on it. He purchased 3 sheets just to be sure he got the coverage he needed. Just look what you can do for under $300.00