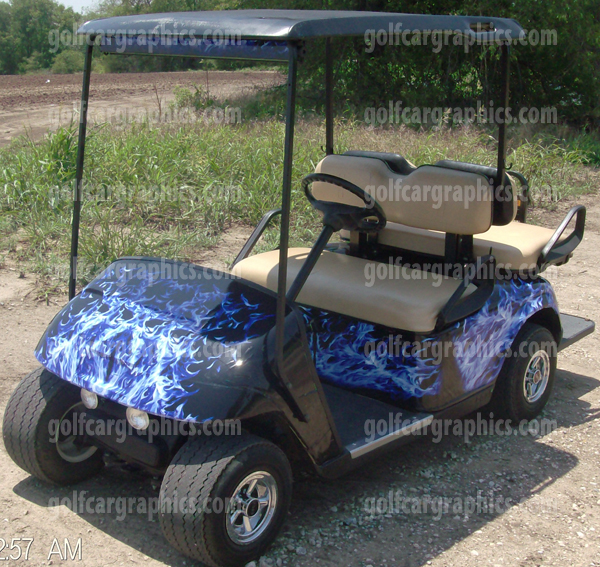 Name: Pat Paget
Model: Club Car DS
Product: Blue-Black Flame vinyl wrap
The service was great! It took about 5 business days to receive the wrap, and I waited another week to attempt the project.
I could tell upon opening the package that this was a great quality product. The wrap was sturdy and thick.
I was very intimidated to attempt the wrap, but i spent a day doing prep work. The first step was to remove everything and clean the cart using simple green. I removed the roof and painted it black. I removed all of the seats, decals, etc. Before applying the wrap, the cart was wiped with denatured alcohol. I first applied the strip under the seat, as this did good to start a base.This was the easiest piece to install. Next was the sides. My wife and I applied the wrap and it was a big project.
I felt comfortable that i had the number to call for install help, though i didn't use it. I used the hair dryer the seal everything – it seemed to adhere better, but tended to wrinkle or bubble up when i used it before applying. You cant be scared to really pull or stretch the wrap. It did take a few hours of work, and you must be patient with the material. Overall it probably took about 5 hours start to finish, and do not try to do this wrap alone. The wrap came with a squeegee and we also purchased another. We were very satisfied with the finished product. It was some work, but are very satisfied with the results. Everyone rubbernecks when they see us cruising our golf car around the neighborhood, and asks us where we got it painted. Most people have no idea that it is a wrap.
Thanks,
Patrick Paget
ORDER Blue Black Flame